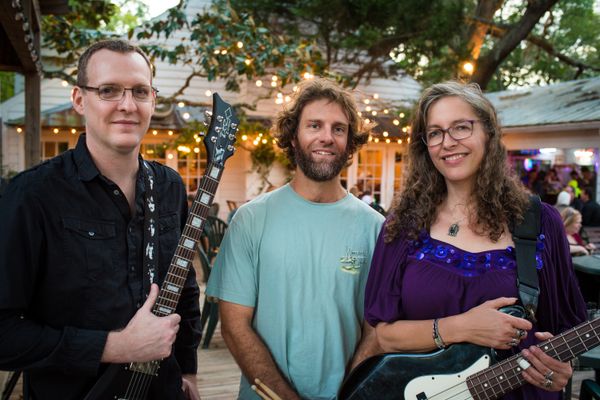 Broad Spectrum Rock & Roll
The Grapes of Roth are an energetic classic rock trio based in Saint Augustine, Florida and founded by veteran area solo performer Elizabeth Roth. Roth provides lead vocals and bass guitar for the group and is joined by Matt Van Rysdam (lead guitar, vocals) and Trey Moore (drums).  Performing in venues from Daytona to Saint Augustine to Jacksonville, this is a band made up of three talented friends who just happen to share similar tastes in music and the same philosophy towards their craft – they believe that their job is to make sure audiences have a good time! To this end, the group covers songs from artists you know and love such as The Beatles, Led Zeppelin, Heart, Stevie Wonder, The Eagles, The James Gang and Fleetwood Mac, etc, with a healthy dose of older rock, and more current hits mixed in. Add to this a bit of rocking dance music - and you have an instant party!
For a sample songlist, follow the "Grapes Songlist" Link
"Where are you guys playing next?"  (Follow the "shows" link, above.) 
"Where have I seen the band before?" (See below).
PARTIAL LISTING OF PAST AND PRESENT VENUES:
Creekside Dinery, St. Augustine
Tradewinds Lounge, St. Augustine
A1A Aleworks, St Augustine
Scarlett O'Hara's, St. Augustine
White Lion Tavern, St. Augustine
Mill Top Tavern, St. Augustine
The Golden Lion, Flagler Beach
Pizza Garden & Pastabilities, St. Augustine
Beaches on Vilano, St. Augustine
Mardi Gras, St. Augustine
Shellfish Grill, WGV, St. Augustine
Seven Bridges Grille, Jacksonville
Jack's BBQ, St. Augustine Beach
Scoreboard Bar and Grill, Jacksonville
OTHER (ANNUAL CITY SPONSORED OR FESTIVAL TYPE EVENTS):
Downtown Plaza Summer Series,
City of St. Augustine
Music by the Sea Summer Concert Series, 
City of St. Augustine Beach
Riverfront Summer Music Series, 
City of Palatka
Rhythm & Ribs Festival, 
St. Augustine 
Palatka Main Street Live
(downtown city block parties) 
PRIVATE OR CORPORATE:


Many private events and weddings, and company parties for businesses such as:
A.O. Precision Manufacturing, Daytona
All American Air, St. Augustine
352 Media Group, Gainesville
St. Johns River State College, St. Augustine
The Grapes of Roth Facebook page: